A skin tag is a small growth of soft skin formed by loose collagen fibers that get stuck inside areas of thicker skin. Nobody is sure how they form, but studies have linked them to obesity and diabetes, or they could just come from skin friction. That is why they are most commonly found in places such as armpits or the groin. They affect everyone, men and women, and it doesn't matter what age. They are entirely harmless, but you'll know about it if it gets caught on clothing or jewelry.
If you have a skin tag, I'm sure you have heard some weird stories about how to get rid of them. Home remedies for removing skin tags can be outlandish and seem untrue. But they exist. Most are surrounded in question marks if they work or not, some have harmful repercussions for your skin if misapplied, and some are just weird. Here we list 21 home remedies that you can try.
1. How To Remove Skin Tags At Home With Vinegar
Vinegar is a natural treatment that can work wonders if you try it out safely. Its acidic properties are widely thought to prevent infections, preserve food, and sterilize wounds. It has also been recently used to promote weight loss and treat colds. That said, its acetic acid is believed by some people to break down skin tissues around the skin tags. This could finally make them fall off. However, there is no scientific evidence to back up this myth with research, even showing it could even damage your skin further. They say soaking a cotton swab in vinegar and placing it on the skin tag for 15-30 minutes each day will do the trick. But this takes days, maybe even a week depending on the size, and, well, we all want instant results, don't we?
2. How To Remove Skin Tags At Home With Dental Floss
Tying a piece of dental floss around the stalk or neck of a skin tag cuts the circulation and will make the skin tag drop off. But again, it takes up to a week. Plus, dental floss is a pain to tie around small areas like a skin tag. You could also try fishing wire for the same effect. Tie a lasso around it, pretend to be a cowboy/girl.
3. How To Remove Skin Tags With Nail Polish
Nail varnish will dry up the skin tag, and it will fall off, death by suffocation. However, there have been no studies to prove it is safe or effective. However, you are more likely to have nail varnish at home than apple cider vinegar, and it won't cause any serious damage to your skin. Try and use clear nail varnish, unless you would like to show off the fact that you have a skin tag.
4. How To Remove Skin Tags With Toothpaste
There is a lot of mystery around whether toothpaste works or not. It needs to be mixed in a bowl with baking soda and castor oil. Apply the mix overnight, and your skin tag should be gone. Or not. The case is that there is a lot of preparation and the need to have the mix on overnight.
5. How To Remove Skin Tags With Essential Oils
Essential oils have tons of proven benefits for your skin. However, is removing skin tags one of them? What the oils do is dry up the skin and cause the tag to fall off, but this can take anywhere between a couple of days and two months of applying oils 3 or 4 times a day.
6. How To Remove Skin Tags Duct Tape
Place a piece of duct tape over the skin tag, and this should suffocate it and cause it to drop. If you made the piece of duct tape too big, you do risk damaging the skin around the tag, so watch out for that. Once the duct tape peels off naturally, the skin tag should come with it. If it doesn't, try again. Sound reasonable, right?
7. How To Remove Skin Tags With Dry Ice
The first recommendation about using dry ice at home is, don't use dry ice at home. It can cause serious damage to your skin and should only be applied by professionals, meaning doctors. However, if you are willing to run the risk, it will freeze the skin tag off.
8. How To Remove Skin Tags With DoTerra Oils
DoTerra oils are essential oils, so their application and effectiveness are the same as in suggestion 6. The best recommended is Oregano DoTerra oil. But you can get more natural essential oils from places like markets, instead of a large company.
9. How To Remove Skin Tags Naturally Apple Cider Vinegar
This may come as a surprise, but this method is the same as applying normal vinegar, seen in suggestion 1. However, it is said to be more likely to work thanks to the higher acidity levels in apple cider vinegar.
10. How To Remove Skin Tags With Garlic
Apply crushed garlic to the area where your skin tag is and secure it in place with a bandage. Keep it on overnight (no need to worry about vampires) and wash off in the morning. Repeat the method until the skin tag falls off.
11. How To Remove Skin Tags With Super Glue
Cover the skin tag with super glue. Don't go overboard with it, but don't be shy either. The superglue will suffocate the skin tag and cause it to drop off. Put the glue on overnight, wash it off in the morning, and repeat until it does fall off.
12. How To Remove Skin Tags With Hydrogen Peroxide
Apply hydrogen peroxide directly onto the tag 3 or 4 times a day with a cotton ball. The peroxide makes its way into the skin and causes the tag to drop off. However, it takes time, and you need the patience to see it through.
13. How To Remove Skin Tags With Baking Soda
Mix baking soda with castor oil or water and rub the mixture on the skin tag. Careful if you have sensitive skin, though, as it can cause redness. Try and keep the paste on for as long as possible and repeat the process three or four times a day.
14. How To Remove Skin Tags With Aloe Vera
Aloe Vera is really good for your skin if you want soft, smooth skin. It prevents skin tags appearing, apparently, and if you apply the gel of the plant on your skin tag, it will cause it to disappear. Apply frequently, and the results aren't instant.
15. How To Remove Skin Tags With Vitamin E Oil
Making sure the area is clean and dry, apply the vitamin E oil to the skin tag, cover with a bandage, and leave overnight. The oils will dry the skin and cause the tag to drop off. You need to repeat over several nights, but that is becoming a theme now.
16. How To Remove Skin Tags Lidocaine
A lidocaine injection in the stem of the skin tag will numb the area so you can cut it off. Which is great, unless you can't reach the spot, or don't have lidocaine.
17. How To Remove Skin Tags With Liquid Nitrogen
A quick spray of liquid nitrogen will freeze the skin tag, and it will drop off. Your skin may blister but should heal on its own. Unless you spray too much and cause a serious injury to yourself.
18. How To Remove Skin Tags With Salicylic Acid
While it is not recommended you use salicylic acid, as you can cause serious damage to your skin, it can also work as a skin tag remover. But only on small ones. apply a little bit on the tag with a cotton swab, repeat for a few days, and it should disappear. Or cause you to have an injury.
19. How To Remove Skin Tags With Tea Tree Oil
Likely to be the most common natural remedy for removing skin tags at home. But again, not instantly, you will need patience. Apply the oil 3 to 4 times a day for up to two weeks, and you will start to see your skin tags fall off.
20. How To Remove Skin Tags With Lemon Juice
Lemon juice is a potent antiseptic that contains citric acid. For this reason, it effectively decomposes cells inside the skin tag, forcing it to fall off. Use a cotton ball applied with at least half of fresh lemon. Smear it directly to the tag, and don't be in a hurry to wash it off. Do this for at least three times daily until you notice improvements.
21. How To Remove Skin Tags With Castor Oil
Castor oil is also a very popular oil used for skin tag removal. You'll need to mix castor oil with baking soda, forming a paste. Keep in mind to always use the paste within 48 hours. Apply small amounts completely coating the skin tag for around three times per day. This mixture will absorb the skin tag's moisture, eventually drying it up. Proceed to cover the skin tag using a bandage and repeat the process for around 1-3 weeks.
The Tommy Timmy Spot Blaster Pro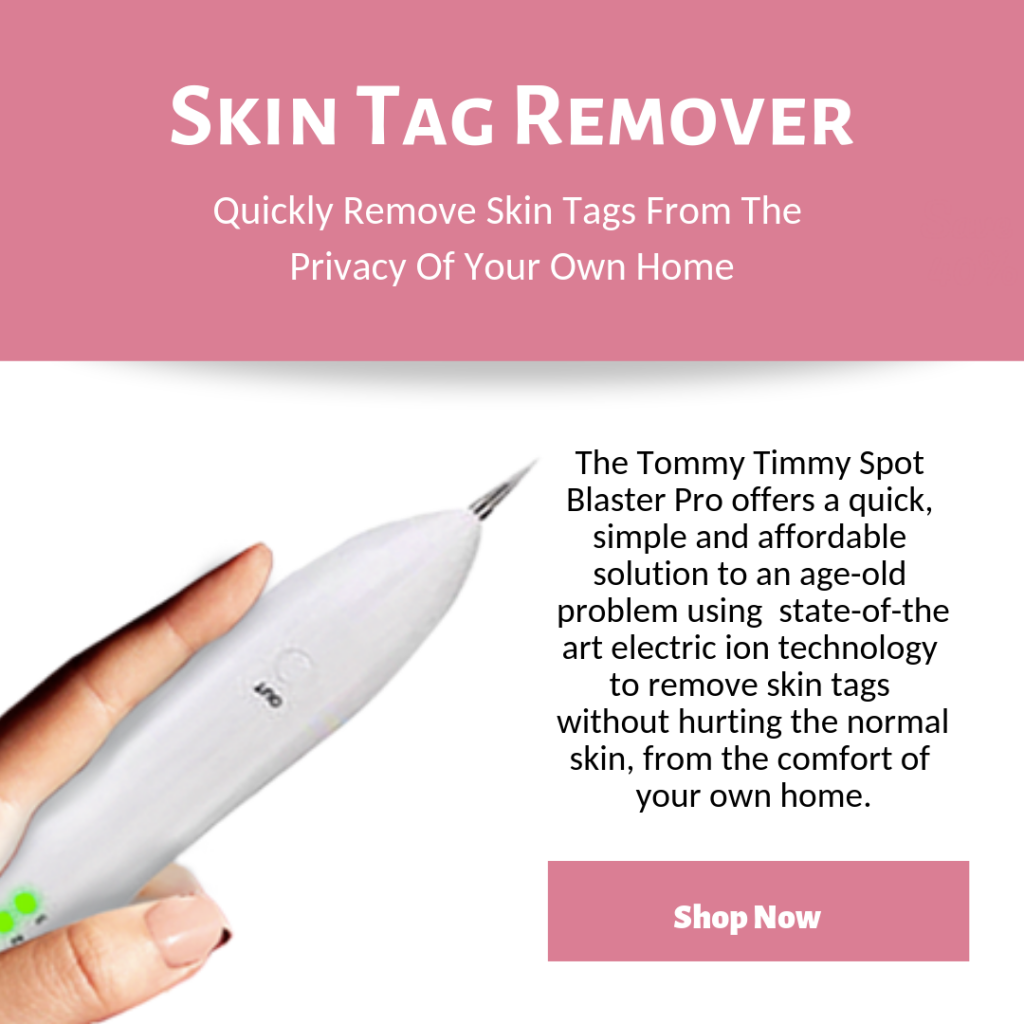 The Tommy Timmy Spot Blaster Pro is the best option for removing skin tags and other skin abnormalities at home. It has different settings you can use to remove skin tags fast and efficiently. Packed with the latest technology, easy to charge and take with you anywhere, and simple to follow instructions. There is no better way to remove skin tags
The results are fast, and once it's gone, it is gone for good. You can start using it the moment you get it out of the box.
Also read our article on Tommy Timmy Spot Blaster Pro here
Final Thoughts
While there are many other remedies for removing skin tags available and out there, they are all as crazy sounding as the ones listed here. If you believe it to be serious, contact a dermatologist, as it is better to be safe than sorry. But, the one thing recommended by thousands who have already tried it is the Tommy Timmy Spot Blaster Pro. It will remove anything you need or want from your skin permanently. You don't need to do hours of training, unpack it from the box and go.  While some of these crazy home remedies might work overtime, why wait? Remove your skin tag today.