Remove Facial Hair
One of the issues that women experience as they age is removing unwanted facial hair. Although this is a common problem, it can also be embarrassing, depressing, and demoralizing. A common question women ask is
"Why is the hair on my head thinning while the hair on my face grows thicker?' 
The reason why this happens is a result of hormonal changes. Once you reach menopause, the body undergoes rapid physical and mental changes that affect the production of hormones. The result is that a woman often ends up getting facial hair, especially around the chin, neck, or the top lip. For some women, it may be due to climate and genetics. However, menopause is one of the primary triggers.
Neal Schultz, the founder of BeautyRx and DermTv, says, "female hormones normally tend to decline with age while the male hormone levels remain constant. This difference causes the hair follicles designed for male distribution to grow in a relatively higher amount around the beard area."
How to remove facial hair permanently?
Women can remove facial hair quickly and permanently in a variety of ways. Some of the best ways to remove facial hair include:
1.Laser Hair Removal
Since its commercial availability in the 1990s, the use of laser treatment for irreversible hair removal has grown significantly. You can permanently remove body hair within just 3-8 sessions. This technique involves shining a concentrated light beam on the targeted area. The skin pores will absorb the beam of light, causing the hairs to warm up. As a result, the hair follicles end up getting damaged because of the excess heat. Hair will stop growing from these follicles permanently. The best thing about laser hair removal is that it produces significant results within just a few sessions.
Another advantage is that you are still allowed to shave your hair in between sessions, so you have a choice whether you still want hair mid-treatment.
A Hollywood celebrity whose name is synonymous with beauty and flawless skin is Kim Kardashian West. From her face to her body, she is blemish-free. The Kardashian star, who is a mom of three, swears that one of her beauty and skincare regimens is laser treatment. Khloe Kardashian has used laser hair removal and has even aired the whole removal process on their reality TV show! According to Khloe, laser works like a charm, leaving her feeling fresh and clean.
However, this method isn't suitable for all women. The ideal candidate for laser treatment is a person who has dark hair and a medium skin tone. There are multiple advancements that are being made continually in order to accommodate more people.  According to Dr. Sailesh Konda, who is an assistant clinical professor of dermatology, "there is an ideal candidate." This means that the treatment option depends on your skin tone and skin color. It's, therefore, up to the dermatologist to decide the best treatment for you.
2. Intense Pulsed Light (IPL)
This method is similar to the standard laser hair treatment, but it contains more wavelengths to kill the hair roots. IPL is a targeted type of hair removal that's effective and efficient. An IPL dose usually is shot under the hair follicle where the papilla pigment will absorb it. The hair will shrink and decompose, inhibiting subsequent growth. The number of IPL sessions depends on the size of the targeted area as well as your hair thickness. For instance, facial hair removal takes about five sessions, while the bikini line can take around eight sessions.
An example of a laser hair treatment device that uses light pulses is the Tommy Timmy Smoother Skin Laser and is an excellent choice for women who want to remove facial hair at home very quickly.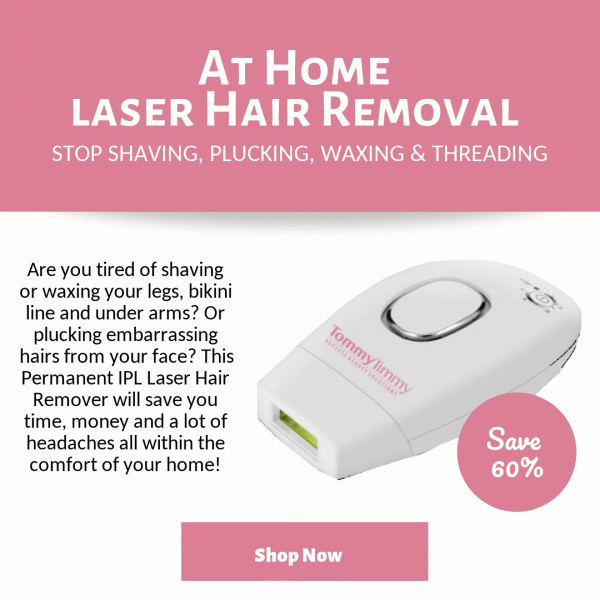 This is one of the best facial hair removal devices suitable for women. Tommy Timmy Smoother Skin (Laser) uses laser technology, which removes hair by producing light pulses. It is a cost-friendly device that you can use in the privacy of your own home.
With Tommy Timmy Smoother Skin Laser, you don't need to wax, shave, or use expensive clinic treatments. This at-home laser treatment helps to save time, money, and pain that comes with the removal of facial hair. Additionally, you can use it from the comfort of your home at any time. The main features of this laser device include:
100% pain-free.
Suitable for older women who have sensitive skin.
Uses the latest laser technology.
Dermatologists clinically prove it as safe and efficient.
Also use on neck, bikini line, legs, underarms, thighs, and shoulders.
The FDA has approved the use of laser devices for permanent hair removal. You can also use an IPL alongside other hair removal remedies.
3. Removing Body Hair With Electrolysis
Electrolysis is one of the safest and most effective ways of removing body hair, especially facial hair. Electrolysis has been approved by the Food and Drug Administration (FDA) as a permanent hair removal method. The process involves inserting a needle probe under the skin into the hair follicle. The standalone permanent treatment uses an electrical microcurrent to kill hair cells, preventing the growth of new hair.
According to Tsippora Shainhouse, who is a renowned dermatologist in Beverly Hills:
"the body hair will end up loosening and can be removed by tweezers."
Note that electrolysis will require you take multiple treatment sessions to destroy the hair follicles. It's a safe treatment option that's suitable for the removal of facial hair as well as the bikini line and underarms. Each treatment session can last for 5 minutes to one hour, depending on your hair growth.
Unlike laser and IPL, electrolysis is painful. The whole process will hurt, and you will end up feeling like there is a hot or sharp zinger on your skin. This happens because of nerve sensitivity, and so you can ask the specialist to use a topical anesthetic to minimize pain. Although laser is generally a preferable option, this is a way to remove facial hair permanently without using laser.
Note: Ensure that the electrologist is registered and has a license to practice. This helps to reduce the possibility of scarring and infections. There are currently no electrolysis devices for home use.
4. Tweezing
Tweezing and plucking are, of course, the easiest and most affordable way of dealing with unwanted facial hair. It's perfect if you have a few hairs that spring up from time to time and is how you can remove facial hair without using a laser. The down-side is it's not permanent.
Wrong Ways of Dealing with Facial Hair
Many women panic once they discover they are growing facial hair. So, here are a couple of things NOT to do.
Don't shave as a quick-fix solution. Shaving is only good for a few days before your hair starts to grow back even thicker.
Don't thread. Some women may opt to thread. It's too harsh for very delicate areas such as the chin and around the lips.
Reasons Why People Opt for Permanent Facial Hair Removal
Permanent removal of facial hair means one less thing you have to add to your beauty routine, along with coloring your hair, nail appointments, working out, and a whole list of other things. It means that you don't have to engage in the constant grueling process of shaving, waxing, plucking, or threading. The benefits of permanent hair removal include:
Guaranteed long-term results.
Minimal or no side effects.
No irritation and ingrown hairs: this is because the hair follicles are killed, preventing the growth of new hair. Furthermore, permanent hair removal can improve the condition of pre-existing ingrown hairs.
Final Thoughts
Threading, waxing, and shaving aren't the best ways of dealing with the removal of facial hair. They are only effective solutions for a few hours but are ineffective in the long-run. The last thing you want to deal with is unwanted facial hair that you always need to remove.
Permanent hair removal, on the other hand, is a user-friendly and cost-effective solution, especially when some options are available from the privacy of your own home.