Winter will soon be over, marking the beginning of summer's swimsuit season. Are looking forward to spending time around the pool or on on sandy beaches? If so, how's your bikini line looking?
Waxing is the method most people think about but is waxing the least expensive, most efficient, and most convenient hair removal procedure? No, it is not. Please read on to discover seven alternatives to bikini waxing.
1. At Home Laser Hair Removal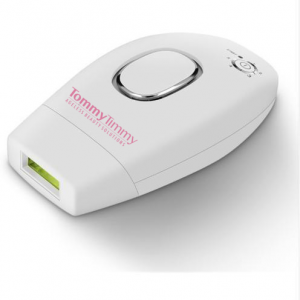 The Tommy Timmy Smoother Skin  laser hair removal technology is one of the most efficient ways of inhibiting hair growth on any part of your body, the bikini line included. It's gentle on your skin which makes it painless; dermatologists across the world actually recommend it for people with sensitive skin. The best part is that the cost is under $100 and you can use it multiple times across many body parts (face, bikini line, underarms, legs and more) It doesn't require any batteries or charging, making it very affordable to maintain. Because it inhibits hair growth from under the skin, this technology enables silky-smooth skin for up to 8-12 weeks. Because hair grows in stages, you'll need to use it 4-8 times to make sure you catch the hair in all phases of growth.
2.Using Epilators (e.g Epilady)
With a good epilator, you can remove hairs that are up to 5 times shorter than the ones you can remove by waxing. These hand-held devices are mostly waterproof so you can epilate as your skin enjoys the soothing warmth of shower or bath water. Epilating gives you between 4-6 weeks of a hairless bikini line.
3.Shaving
Inarguably the oldest home alternative to waxing, shaving will be good for you if you can do it right. You can use a pair of scissors to trim the hair to about a millimeter long and then use a sharp razor for the remaining part. Just remember to apply a shaving gel beforehand for a better shaving experience and then apply a light moisturizer or aloe vera gel afterward. Of course, the hair will grow sooner than when you use at home laser hair removal technology, for example, but it is definitely cheaper. The issue many people experience are the bumps and in grown hairs that come after, followed by the terrible itching.
4.Clippers
These energy-efficient devices are commonly used in hospitals for patient preoperative hair removal around the private parts: That means that you can trust them for your at home hair removal. They remove hair faster than razors, are waterproof so you can use yours in the shower, and are easy to clean and disinfect.
5.Depilatory Creams
The idea here is to dissolve the hair around your lady parts using a depilatory cream such that you are able to wipe the area clean painlessly and safely. These creams mostly work within 10-20 minutes. The downside of this method is that some creams may cause peculiar skin irritation, particularly if you mess with the specified procedure. For most people they aren't particulary effective, and the smell is off putting. But if you are one of the lucky ones, it is definitely an affordable, albeit temporary solution to bikini line hair.
6.Body Sugaring
This method has been used by Arabs in North Africa and the Middle East for centuries, with an impressive degree of success. It works in more or less the same  way as waxing (removing hair from the root), but it is less painful, cheaper, and arguably more efficient. All you need to make the sugar solution is a cup of boiled water, a cup of lemon juice, and 1-2 cups of sugar. You will then cook the solution on medium heat for some time, cool it, and it will be ready for use.
7.Probe Home Electrolysis
This method involves destroying hair follicles using electrical current. The electrolysis device has a thin hair-width sized probe which you use to penetrate the skin. Before you choose this method, however, it is wise to consult a professional or better still, read lots of online customer reviews. Some of the devices in the market today can easily destroy your skin.
Conclusion:
We definitely like the  Tommy Timmy Smoother Skin  laser hair removal the best. It's affordable, safe and after 4-8 sessions permanent.